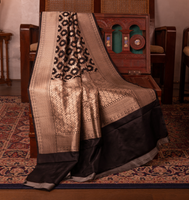 FRESH & FABULOUS!
On the ghats of Banaras, our weavers have been painstakingly working to bring you this fantastic range of Banarasi beauties in their most authentic spirits. Rich fabrics, intricate zari work, and the most elegant colour palette, are all here to woo you.

So, if this is what you've been waiting for,
then scroll through!
SHOP NOW
Since you have landed here, we believe that Banarasi sarees definitely have a special place in your heart. So, let's see how much you love them!
Join us on our Social Media handles and help us spread and celebrate our love for Banarasi handlooms!